Raptor 30 V2
The introducing
This history has begun about eight months ago. From submission of my institute companion I have found, that for that quarter of the century which one has transited since days of my youthful occupancies by model aeroplane flying, in world RC of processing techniques there were certain modifications, and in helicopters – rather significant. The idea to try in this life something new and to diversify the leisure by flyings by the radio-controlled helicopter has arisen in my consciousness and day by day there was all navjazchivee. It was necessary to yield to it and to buy the first helicopter. The most low-cost RTF a complete set of the Chinese production became them.
The solution, of course, disputable, but is grass-snake absolutely other history. I will tell only, that my first helicopter has carried out the problem: for 3 months I have learnt to hang confidently and to fly a little, not speaking grass-snake about valuable experience in the engineering map. It is difficult to feature words pleasure from the first successful flyings (helicopter pilots will understand me). However the time went, and on the foreground microhelicopter deficiencies began to appear already:
Fixed pitch of a curl limits capabilities of flying to a hanging and the smooth horizontal figures;
Light weight and feeble power to weight ratio do not allow to fly to a wind;
The small sizes impede attitude at a distance more narrow in ten metres.
In a word, the problem of a select of the following helicopter became actual. About waiving of flyings of speech could not be – helicopter pilots, it is assured, again me will understand. Any time I fluctuated in a select between "electric train" of the bigger size and a gas-engine. Doubts have disappeared after I have seen flyings of foremen by helicopters of 50th and 90th cls. I have been simply knocked by those capabilities on which one the powerful large ambulance in the arm of the skilful pilot is capable. Selection of concrete model has not occupied a lot of time, to my measure in a sufficient measure responded Raptor 30 V2 productions of Taiwan corporation ThunderTiger.
According to the information assembled by me, first Raptor 30 has been released in 1998. In an aftereffect it has been inoculated, having received new, selection drive PRO-39H (R) and title Raptor 30 V2. The helicopter measures on a fuselage 1150х140 mm and an altitude of 400 mm. Diameter of the chief curl of 1245 mm, caudal – 236 mm. Helicopter pulp – 3 kg. Declarations of the generator and multiple recalls testify, that the helicopter is good both for beginning pilots, and for tutoring to the bases 3D flying, that is that and was necessary for me.
Farly not last role in we wash a select value and accessibility of the helicopter, and also the price of spare parts have played. At last, I was attracted by potentiality of modification of "Predator" from 30th in 50th cl. So, an ultimate select has been made, and it was possible to be shipped in store …
Package
The bright colourful box draws at once attention. Despite the seeming large sizes (actually 73х46х26 sm), it easy enough (5.5 kg) also have the friend pen for a trouble lamp. So problems with delivery from store home both in personal, and in public transport will not originate.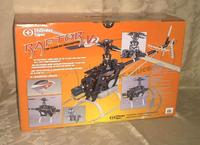 Placards on a box state, that we deal with composition ARF (the helicopter is collected on 90 %), that drive TT PRO-39H (R) is already established, well and is terminating, what is it the best in the cl the helicopter (who would doubt). We open a box and we extract contained bodily.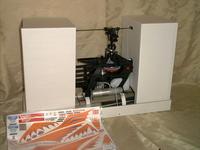 It is necessary to recognise, package is carried out rather competently. Helicopter parts are attracted to the underpan anidex and stay wires. Two cardboard box stiffen to a box and safely defend major assemblies and remaining details in transit. In a separate plastic bag there are stickers, the operating instruction on assembly and the pictorial catalogue of a kept in repair composition (all documentation – in English). To extract all parts, it is necessary to exempt first of all anidex and stay wires, and grass-snake then to peel and prize boxes.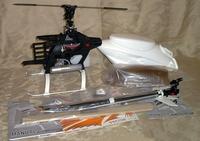 That does not enter in a complete set, but it is required for flyings
Instrumentation:
Five servos. Multiple radiants recommend to use fast (not worse 60 ° / 0.08 sec) a numeral servo on pitch control of a caudal curl and powerful (not less than 6 kg/sm) – on a collective step.
The sender and the collector with figure of canals not less than 5 and if the gyro has the sensitivity control channel not less than 6. The sender should bolster helicopter functions.
The helicopter gyro.
Accumulator battery pressure 4.8 In and size from 1000

mach

for on-board equipment power supply, the bort side cutout.
For an engine start-up are indispensable:
Glow plug.
Istochnik of power supply for a candle.
Electric starter with the attenuator and a hexahedron of 6 mm.
Combustible and the equipment for charging.
Assembly
For assembly be required:
Good crosstip screwdriver;
Rib joint pliers;
Spanner wrenchs with the size 5.5 and 7 (but it is possible to be bypassed and a rib joint pliers) are advisable;
Knife;
Clippers;
Second adhesive (superglue);
Epoxy adhesive;
The clamper of threaded connections

(loktajt)

blue or green colour.
Though the composition of indispensable hexahedral clues enters in a complete set, in my concrete case the most small clue (Т6) had flaw and it could not be used without abrasion of working ridges. Fines, but it is is offensive.
The operating instruction features process of assembly of the helicopter «from null». Basically, we can miss the first 14 points, them for us have already carried out on manufacturer. Running forward, I will tell, that claims to factory assembly practically are not present, except for engine mount frame and motor attachment. Eight appropriate screw bolts should be landed on loktajt and to fasten down. Also it is necessary to check up a bolt tightening of attachment of a deafener. At last, I urgently recommend to paste a superglue of a cap of the chassis as they are simply interposed into aluminium tubes. I have found it incidentally when one cap has fallen out in transit. Would be offensive to lose them aloft.
Point 15 - interconnection of two major assemblies - does not call problems. Correct attitude of a strop of a driving of a caudal curl is carefully snapped by a stria of an adhesive tape which one needs not to forget to be rejected directly ahead of assembly.
Points 16-18 feature instrumentation adjustment. The essence is clear even from case histories, all approaches and is going ideally.
Preparation of details and assembly of a cubicle and lantern (point 19) determine the future exterior so it makes sense not to hurry up and spend activity as it is possible more carefully. By a sharp knife it is rejected technological flanging of a cubicle and blisters in situ pinholes of a lantern and air intakes. Quickly enough it is possible to "catch" knife attitude at which one he goes on the necessary line of a machine cut, reserving easly ridge. In need of it it is possible to improve then an abrasive paper. It is a little bit more difficult to excise lateral pinholes because of their complicated form. Was more friend to spend this operation by means of a scalpel or a narrow knife. The lantern is snug excised on a scheduled line by means of the clippers. It is necessary to tell, that at me some hours have left on excision and assembly. But also the effect has pleased.
Operating instruction point 19 is devoted assembly of arms of the chief curl. Symmetrical wood arms enter in a complete set of delivery. Also there is an additional operating instruction where it is recommended to establish amplifying plates of a fastening pinhole on epoxy adhesive. Thus it is necessary to excise previously in a pinhole film-laminate under the form of plates with hardly the smaller sizes.
It is not necessary to neglect trim. In my case the pulp of arms differed on 0.5 g, and a centre of gravity position – on 8 mm, and in the "bad" party. It was necessary to add about 2 g on the extremity of one arm and 1.5 g on a butt second.
At last, the sequential queue has reached stickers (decales). It is very a pity, that the complete set includes only one colour scheme of stickers. Kirpichno-orange colour is on the fan. Personally I have nothing against, but it would be desirable to have a capability of a select of colour and style of decor.
And here, a net result. Now there is obvious, that a helicopter LARGE, and in an interior of a small room – VERY LARGE. Probably, it makes sense to much to reflect on a vehicle stowage in advance. The size and weight inspire with respect and even call some trembling – after all this vast object soon should be taken aloft.
I wish to mark, that at a stage of assembly the construction of the helicopter and a workmanship as a whole have impressed me favourably. That was not pleasant: at first, a pushrod a tailing. It long, composite, has bendings and transits through five guides with a notable friction. That is even worse, the guide lobby, established on a tailing, can rest against a pipe connection and wedge traction bar.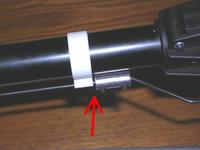 To avoid it, I have confined length travel of guide by means of a ring from the adhesive tape which has been coiled on a tail boom.
The second offensive moment which one was evident: the cubicle upper edge is in dangerous proximity from thrusts of swashplate BK0092. In my case one of thrusts touched a cubicle, and the traction bar arrowhead at its downward motion rested against ridge.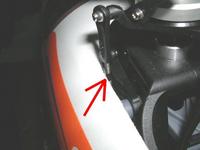 One more trouble – a leakage of a deafener – was determined already after maiden flights. Not burnt down oil exudes through junctions of parts of a deafener under an end and a coupling nut. Scurf of the baked oil spoils exterior, and to reject it it has appeared extremely difficult problem. Dismantling of a deafener has displayed, that though in a construction elastomeric sealing rings are envisioned, they do not execute the function since the backlash between metallic parts is more than section of rings.
On it the agenda of the deficiencies of a construction noted by me while is drained. And longevity of the helicopter it will be possible to speak about reliability after any operation period.
Space flight training
First of all, it is necessary to set up instrumentation of radio control: to select the necessary headings of slaves and to exhibit their central rules and consumptions, and also to set curve dubbings gas-step. Concrete activities depend on a sender and gyro type. It is a lot of helpful information on helicopter and instrumentation tuning it is possible to discover on a site http://www.raptortechnique.com. With Sanwa RD8000 and Futaba GY240 problems at me have not originated. Recommended in the operating instruction to the helicopter of length of thrusts and cradles to change it was not necessary.
Very friend there was a firmware dial of a collective step, however, before to it to use, it is necessary to achieve regulation of thrusts BK0095 conformity of indications of this dial to a real angle of attack of arms. In my case misfitting was nearby 5 °. As I did not plan 3D flying in the maiden flights has confined the assignment only a standard duty, being oriented on given of the operating instruction, namely: the linear curve of gas of 0-100 % and the linear curve of a step 0-12 °.
With model a gas-engine at me the most pleasant memories of 25-year-old prescription are related not. I remember, it was how much difficult to launch and achieve a quiescent operation from a compressive engine of the Soviet production. For this parent it was very interesting to me to look, as will lead itself the modern heat drive. Therefore I have decided to try to acquire it, previously to adjust and obkatat (though the generator asserts, that the running in is optional). In the capacity of a starter I used an electrodrill-shurupovert, and the eligible attenuator with a hexahedron of 6 mm have selected in store of instruments. To my pleasure, the drive was acquired instantaneously as soon as combustible began to act in the carburettor. I only had to fasten a little an idle needle that the motor steadily and smoothly idled. Otkatav a combustible half-filling chest on idle speed and small gas, I have considered space flight training terminated.
Maiden flight
In the capacity of the first airfield the easly concrete island in diameter about 15 m. I has been selected has decided, that on such island will be more friend to spend trim and other flight regulation of model. Maiden flight date was repeatedly put aside: that owing to a rainy weather, that the island has been occupied. Every morning I mentally greeted the helicopter and promised to it weeds for the next day; thus the reliance of characteristic forces foully dropped every evening. At last, there has occurred day when all condition has developed congenially, and it was simplly indecent to put aside deciding instant. I will not forget the word of honour, this day for a long time.
So, later morning, an intermittent clouds, a small wind. All secondary generators are beforehand charged, instrumentation is checked. The helicopter is dressed and established at the centre of "a take-off field», last preflight checkout is spent. I hook up heat of a candle, I launch a starter. The drive instantaneously picks up and exactingly rumbles. I turn out candle power supply, I put a cubicle on trips, I head out on some metres back. Heavy sea prevents to be centred. The arm that prevents activity with the board besides, shiver. But there is no place to draw off already and I start to add gas continuously. The clutch is actuated and the curl starts to be cranked, then originates and at once small chattering, obviously disappears, curl arms have occupied the necessary rule in keepers. I prolong to add gas. During any moment the helicopter starts to deploy counterclockwise. Apparently, it is not enough traction bar of a caudal curl to compensate a reaction torque, despite all efforts of the gyro. Still hardly there is more than gas and the sharp turn ceases. The model begins a customary slip to the left. Automatically I stop this drift by the roll pen. Unexpectedly I see, that the helicopter has lifted off on some centimetres.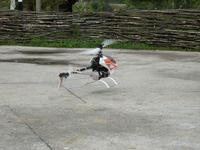 Hurrah, it was received! Continuously I plant the vehicle and I shut down an engine. Too many emotions, are indispensable a small time-out.
After a coffee cup again I deliver a motor, slowly I raise the helicopter on 0 m then sharply I add gas. The helicopter obviously deploys counterclockwise and a little "tupit". Snug I plant, I wait for a curl stopping. After that I add sensitivity of the gyro and I turn a needle of ratio of mixture of the drive a little. Again I raise and again I plant. I repeat this routine some times. Sensitivity of the gyro is already advanced on 100 %, but an overcorrection on the move a tailing is not watched. During any moment the response of the drive after a hanging is aggravated, I turn away a needle of ratio of mixture on 2-3 clicks. Similar, it is an optimal adjustment. Gradually combustible in a filling chest comes to an end, and I hunt myself on thought, that behind these routine take-offs and regulations pristine heaving has decreased to zero.
Again small rest, charging and take-off. Now I try to change a rule and a flying height.
Stability amazing. In the absence of a wind the helicopter hangs in one point, demanding only very small updating on control. Gusts cause to play a little gas, but the special problems with altitude and rule deduction do not originate. With gratitude I recall the first microhelicopter. It is its obstinate character has given me the skills, allowing small motions of finger tips to hold in air and to do compliant the large, powerful ambulance. The pleasure from flying is difficult for transmitting words, but all good (as well as combustible) terminates sooner or later. I plant the helicopter, for today it is enough. A pair of snapshots on memory:
Also it is possible to go home.
Abstract
Pluses:
The helicopter approaches both for tutoring of green hands, and for flying ageing;
The reasonable price;
Abundance of spare parts, low operating costs;
Capability of multiple modifications, up to transfer in 50th cl.
Minuses:
Only one colour scheme of decor;
A number of fine design deficiencies.
Most likely, the further maintenance will add pluses and minuses in the overhead agenda. By the current moment I am very happy with acquisition. As my second helicopter, Raptor 30 well answers the aims of operating time laid down by me and perfecting of flight skills.
The helicopter for the review has given store Flying.
Comments:
trying to learn, 23/01:
what the hell are you talking about Have someone who speaks English fluently help you completely rewrite this page if you want it to be helpful The only thing I understood is that an endcap fell off your landing gear Good thing it came off on the ground as losing one in the air would be offensive.

manny, 11/03:
Cant understand most of what the author is saying in his writing Very frustrating to read because the wording used to form most sentences just doesnt make sense Needs to translate into english a little more carefuly


Similar pages: