Baby Piccolo
The introducing
Baby Piccolo - this helicopter is constructed already more 3 years ago by corporation Ikarus. For the first time the helicopter standard model had pulp nearby 165 gramme and a curl in diameter only 500 mm. Originally, the model was designed with a curl of fixed pitch and equipped with the drive with the strange title "295" and unknown arguments. However, one year ago in connection with a competitive control for this model there was a new modification of a curl and a swashplate - with a collective pitch which one has allowed to execute simplly improbable flying.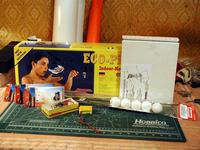 For simplification of a tillage part the helicopter is equipped by the additional drive on a tailing which one allows to simplify considerably a construction of the general step of a caudal curl. On the other hand, it has caused making by corporation Ikarus of special on-board electronics for this model. But, one of virtues of the given model can consider, that in case of utilisation of a curl with fixed pitch, the requirement for special helicopter instrumentation misses. The elementary 4-channel FM-sender will approach.
To me in the arm it was got Piccolo at once with 2 versions of a curl: fixed and a collective pitch.
Model leading particulars:
Diameter of a curl of 50 sm
Secondary generators of 7-8 banks

AAA

Swashplate with a collective pitch of 90 degrees
Plastic arms for fixed pitch and wood for the general step
Plastic frame
All loaded elements - carbon
What as a unit?
To me the complete set which one only can be gained in Moscow without an upgrade has got.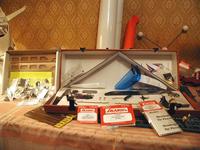 Structure:
Model Piccolo with drive G310, fixed pitch
Curl with a collective pitch
Piccoboard (the collector and the gyro etc.)
The modulus of deduction of a tail boom (Heading Hold)
Secondary generator Sanyo of 7 banks 250 ma/H
Control-surface actuators GWS Pico 3 pieces
Additional drive G310
Training chassis
The complete set is dazzlingly packaged into a cardboard case in which one it will be possible to execute a trouble lamp of assembled model later. Unfortunately the operating instruction is constructed by people who apparently economised the time, complete lack of photographs, poor quality patterns. In the operating instruction numbers of details but as them to use at assembly - absolutely not clearly as they are not meant anywhere more are indicated: neither on bags with details nor on details. Therefore assembly can resemble process of collecting of a puzzle, but with smaller quantity of parts.
All details of amazing quality. Other problems it is not visible yet, therefore we will initiate with assembly.
The main curl.
As it was already mentioned, for the given helicopter there are 2 constructions of the main curl: with the fixed and collective step.
Fixed pitch
The construction of a curl with fixed pitch is surprisingly simple. It consists all of 5 devices and is thus supplied dazzling quality with bearings, that positively affects resource of model. Arms are carried out from plastic material which one is not afraid of shocks and is dazzlingly bent.

Collective step
The new update of a bearing curl equipped with collective step became logical prolongation of progressing of this model. The given update allows to effect more extremal piloting of model and even to execute such manoeuvres, as: flanks, buttonholes, inverse flying, and also various figures 3D flying. It is necessary to recognise, that designers of corporation Ikarus have considerably worked to realise idea 3D flying on this model. They have decided assemblage of the constructional moments and have constructed a unique swashplate of a curl. To its habits it is possible to fall into:
Utilisation of a preferred circuit for hooking up of instrumentation and utilisation of one machine for control of a collective pitch
Survivance of a curl during falls
Heightened resource, wearability since in all responsible hitches bearings are established.
The swashplate is so small, that basic parts without ceremony locate in boxes from matchs.
Curl arms have an anisometric structure and are carried out from a balsa wood with load interposings from lead. To paste over with their appended film it is necessary independently.
Caudal curl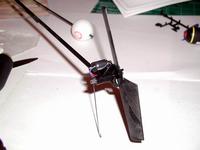 The compensating caudal curl is carried out with a driving from the separate electromotor. The given construction has both positive moments, and subzero.
To merits it is possible to fall into:
Ease of a construction
Shock resistance
Wearability
Possibility of using in the capacity of a tail boom practically any structural materials; for example, in case of utilisation of a dural tail boom repair by simple rectification by her hands is possible
Dazzling capability for constructioning of semiduplicator models since conduction of a caudal curl to any site dictated by a prototype is possible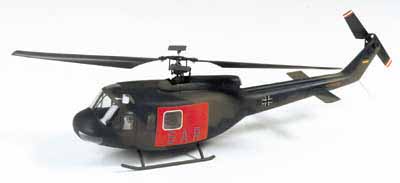 Negative qualities:
Large sluggishness
The large pulp born on a tailing, is taken up by the appropriate removal of the secondary generator
Utilisation of the additional drive and according to additional electronics.
How much this construction is good for the given model, to tell difficultly.
Assembly.
We initiate with assembly. Was possiblly, I execute assembly not absolutely in that order in which one we are dictated by the operating instruction, however, in my opinion, so was more friend.
The training chassis.
Let's begin with assembly of the training chassis: structurally the chassis is carried out from carbon rods and blobs from table tennis with pinholes. Attachment of blobs happens at the expense of silicone tubules tensioned on carboxylic rods.
The chassis makes impression of a fail-safe design, though it thus very easy. About a structural strength says that for one rod it is possible to raise all helicopter. All the same Carbon knowingly is considered an in the lead substance for lungs and rugged constructions.
Frame of model of the helicopter
Assembly of a frame does not compound special transactionses, it is necessary to remember only about that the length of carbon rods in a chassis construction is not equal on the right and at the left. It is made for a drift compensation during takeoff. 2 bearings are interposed into a frame for the main curl, the curl shaft - a carbon rod. Then we anchor the lower pinion then we instal the drive already. I interposed bearings on loktajte (the fluid for fixing of threaded and other interconnections, allows to effect further their dismantling).
At assembly it is very snug worked with a superglue and it is glued only those places which one are indicated in the operating instruction!
Curl assembly
Rotary table with collective step we will view more in detail. We begin assembly with a slider of the general step.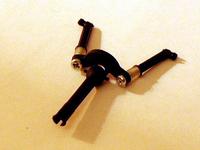 The given construction executes modifications of a collective step. In a photograph we see 2 compensators from a silicone tube. This detail is the most unsafe and is easily broken at model fall.
Further the swashplate cup is established. It is carried out from plastic material very much sound merchantable and collected on the bearing. To deficiencies it is possible to fall into lack of a blob, but it is easily patched.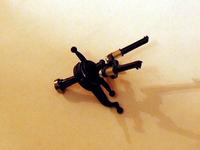 Further 2 amalgamators are going. Pay attention that they are carried out on 2-uh (!!!) bearings.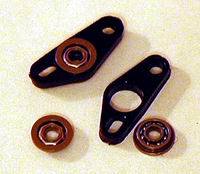 Thus I interposed them on loktajte.
Then we collect a rotor head (the most surprising, that trunnions as are completed with two bearings).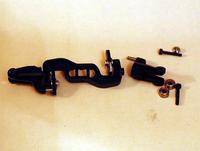 We instal control blades, thus we pay attention that they should be twirled absolutely loosely together with the shaft concerning a head.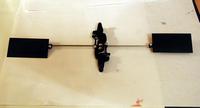 After that the swashplate is established on the chassis and we put the coupling. It as is a sore point of this model. Unfortunately, during falls it is wrecked by one of first, and it is necessary to search for bearings on all dwelling unit (on all island).
Further we collect all gear and we establish thrusts. Such nice construction is received here.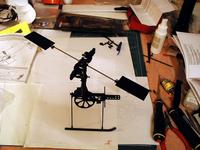 Now we collect arms and it is not forgotten to paste, as prescribed by the instruction, lead weights then we fit arms a film and it is trimmable.
Let's not view in details assembly of a curl with fixed pitch as it is much easier also all intuitively it is clear. You can easily collect this detail independently on the patterns given in the operating instruction. You also can be oriented in a photograph of a curl with collective step as the construction is very similar.
Piccoboard (the Brain and a cerebellum)
One of the most remarkable designs of corporation Ikarus can consider the unique integrated composition of on-board electronics. In a structure of the given bort side (Piccobard +) it is switched on:
6 channel FM the collector
The gyro with a possible connection of the additional modulus which is implementing a function of deduction of a tail boom (Heading Hold)
1 power regulator with function BEC
1 regulator for the drive of a driving of a tail rotor
Also to on-board electronics concerns:
3 machines Pico GWS
1 power drive G310
1 drive of a caudal curl
1 secondary generator 250 ma/H Sanyo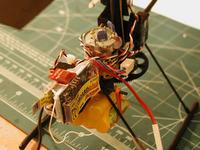 Piccoboard structurally presents assembly from 2х the plateaus subtended through a double-face soft adhesive tape by a thermoslump. Thus it is visible, that 6-channel FM the collector is mounted on one plate, and all remaining on another. At large desire it is possible to use the collector in other purposes. As it is arranged by all 6 connectors.
My composition was completed with modulus HH (Heading Hold, tail boom deduction). This modulus is established very simply. According to the operating instruction, it is enough to interpose microassembly into the connector and it is enough of it.
I did not stick down the machine on a superglue as it is told in the operating instruction, and have simply tacked them on a good double-face adhesive tape - it it has appeared enough for execution of customary flyings. Actuation of on-board electronics is effected simply by a sticking of a power socket of the secondary generator.
Installation Piccoboard does not present the special problems, is unique it is necessary to pay attention to a pair of the moments:
At glueing Piccoboard it is necessary to monitor, that it was perpendicular to the basis (and in bridge rotor shafts). It strongly affects quality of activity of the gyro.
On plate of the collector there are no clues for connectors of machines, it is necessary to pay special attention on polarity and to interpose connectors as prescribed by the instruction.
On plateau there is an information on function of variable resistors. It is necessary to act exclusively as prescribed by the instruction.
It is necessary to monitor that wires have not got in moving parts.
Tuning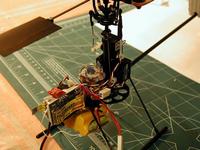 Model tuning strongly enough depends on what is established at present a curl, but it is possible to use following simple algorithm:
We instal control-surface actuators.
We hook up them to a bort side.
We actuate instrumentation and we put pens in a midposition (drives should be turned out, and on instrumentation any dramatic control units, etc. should not be switched on)
We pick up cradles which one at adjustment on the machine shaft are fixed bevel way 90 degrees to the appropriate traction bar.
Cradles we take under the operating instruction, or it is picked up such that at consumptions, equal 100 percents the traction bar motion compounded as 100 percents - or a motion regulated by the operating instruction.
IF it is necessary, we achieve perpendicularity of a cup of the shaft, turning in thrusts.
In Piccoboard indemnification of the angular momentum called by gyration of the main curl is established. Therefore BINDINGLY turn out a gas and tail rotor dramatic control unit in instrumentation! Modulus HH does not demand some any infusion.
In case of model with collective step, it is necessary for you to use purpose-built helicopter instrumentation and to carry out additional activities:
To establish the third machine.
To adjust the channel 6 as the channel of a step of a curl.
To establish curves of gas and a step (angles) for miscellaneous modes of flight.
Flyings
Piloting of model of the helicopter very strongly varies depending on a type of a fixed curl, therefore we will view behaviour of model oтдельно for each curl. But, first of all - the general moments.
To actuate model only in such succession: instrumentation, then model and to ungear in the beginning model, and then instrumentation! There should not be a situation with switched on model and the declutched sender because in this situation the collector will start to receive handicapes and accordingly all will move in a random order. Before actuation establish the gas pen in an idle rule, and tumbler Idle if it uses, in rule Normal.
It you will protect against a contingency models and lack of injuries.
On-board regulators are carried out in such a manner that even if you incidentally switch on a bort side at the fixed pen of gas on the average a rule, the curl will not turn. If you transfer the pen in an idle rule the motor will be switched on. Personally I urgently recommend to you not to do it. After the given operation at the tail rotor and gyro regulator problems begin! Actuate model only at the pen of gas established in a minimum!
For correct initializing of the gyro at all do not touch model while on Piccoboard the bulb flashes.
With fixed pitch
The model with fixed pitch has knocked me with the easy of steering. Thanks to a chassis taper, during takeoff almost completely there is a drift of model and in case of lack of wind flows the model hangs absolutely easy. Thus any evasion is very simply taken up by easy driving of the pen on instrumentation. Any manoeuvres are made slowly and easy, power of new motor G310 suffices on everything, that only it is possible to carry out with the given curl. Flight time with one charging NiCd of the secondary generator compounds 3-4 minutes (with NiMH 720ма-7-8 mines). A rustle of arms very soft and pleasant. I conducted flyings in a room with the flight square 3 on 4 metres. The tail boom is retained by the gyro very well, but I did not make any violent manoeuvres.
With training chassis I did not effect flying, since at separation of model from land monstrous chattering was watched. Very similar that the chassis entered in auto-oscillations with model.
With a collective pitch
When you raise model in the given complete equipment, on mind one word - hurricane comes only. The model is elementary torn off from a land surface. Hangs stablly, but the slightest driving by the pen - and model there and then springs and rolls. To retain it is possible, but it is problematic enough! Thus the model successfully opposes to a small wind. Flyings on the small square are practically expelled, as the model is attracted practically by any subjects: walls, etc. to Retain model very complicatedly. In a small hall or in silent weather - expanse. From small boost the model executes a buttonhole. Other figures did not try because of the inexperience. The gyro at straight flying works normally, at buttonhole execution too has not been noted any problems. Modulus HH dazzlingly retains a tail boom at any manoeuvres. The only thing - finds out disadvantage of the structure of a caudal curl at fulfilment of reverse flights. In a first moment the helicopter tries to deploy that the caudal curl has not time to be cranked, but then all comes to order.
Repair
Unfortunately, flyings on the small square are fraught with emergencies. The blind and the chandelier Somewhere hang, there is a furniture and, of course, it is possible not to manage and drop model simply.
The most terrible things for this model are: angles of furniture, a pinch of chairs and a blind. The furniture, clear business, rigid, and blinds than are guilty? Blinds are ingested simply in a curl, and thus, by the worst, that if the furniture simply costs in situ, the blind artfully creeps to model.
Despite of everything, the model has proved to be surprisingly tenacious. Besides, that emergencies happened, when the curl turned at all on idle speed, major damages were not. I will enumerate those hitches which one in suffer most of all.
Fixed pitch:
Arms are a little scratched, but not wrecked.
The bush of attachment of a curl is gradually wrecked
Constant searching of bearings on a dwelling unit is ensured.
Collective pitch:
Balsa wood arms are wrecked, but easily give in to a multiple glueing together.
The bush of attachment of a curl is gradually wrecked.
The slider of a collective step (little bit incomplete construction) is wrecked.
Regular searching of bearings is ensured.
Upgrade (Upgrade)
As well as for the majority of models, for Piccolo there is a large quantity of upgrades. Basically, to these upgrades changeover of plastic details by the dural concerns. At this changeover as some construction defects are removed.
There are also more severe upgrades which one essentially refine model as a whole. It is a question of changeover of a motor on commutatorless. Commutatorless motors from Haсker or Astroflight, with regulator Schulze Future 18be or analogous more often establish. The given modification demands the considerable holdings comparable to value of model as an assembly, however it result ins to notable martempering of flight characteristics. Incidentally flight time till 12 minutes (on NiMn 720 ma/H) is incremented, and power to weight ratio of model very noticeably is boosted. Very interesting habit is utilisation of special 3-phase regulators with function of the tutor (function of maintaining of constant cycles). This function allows to avoid the main problem of electrical helicopters - losses of cycles in process of category of secondary generators, but plate of it - money.
Thus, the special remaking to effect it is not necessary. The regulator is hooked up in bridge standard (it is related to that that for indemnification of a caudal curl the gas channel is necessary to the gyro). Is For this purpose friend to make perehodnichek.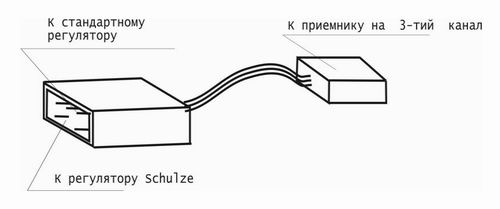 Very much the pulp of model of the helicopter has great value. With it struggle all accessible tools, beginning from a shortening of wires of control-surface actuators, before utilisation of ultra-low carbon frames and thrusts. On it it is possible to spare to 20 gramme that is very considerable for this model.
One version of an upgrade is changeover of accumulator batteries. The most simple version is an adjustment of on-board power supply from 8 banks (9.6в) instead of 7 banks (8.4). It brings sharpness substantial growth aloft models. However, fans of look-alike upgrades should mean, that it will be desirable to exchange the regulator of the caudal drive with more high-frequency also. Otherwise, the caudal drive will fail very fast because of burning-off of sweepers. The matter is that standard regulators operate at a frequency of about 3 kilohertz, and inductance of wirings of the caudal drive is too small to smooth these oscillations. As a result, through wirings of a caudal driving start to transit large current pulses which one become specially fatal at power supply from 8 banks.
Besides magnification of quantity of banks, it makes sense to transfer on NiMH secondary generators. They have a smaller specific gravity, and at the same pulp NiMH the battery for Piccolo has size 720 ma/H instead of 250 ma/H for NiCd. For the sake of justice, it is necessary to mark, that NiMH have a bigger internal resistance, therefore because of a thermal loss to expect triple magnification of flight time it is not necessary. Nevertheless, this time increases rather noticeably, till 7-8 minutes on a standard motor.
The sense is that who wants the peak magnification of a time of flyings to buy battery lithium-polymerous. Here, however, it is necessary to be very close:
Do not confuse lithium-polymerous of the battery about lithium-ionic. Last have twice smaller peak discharge currents, and will not soak an indispensable operational mode
The motor upgrade on commutatorless becomes any more an option, and necessity as it is necessary to lower a current consumption. Currents which one consume customary drives, will be for lithium-polymerous of secondary generators a little

velikovaty

.
Lithium-polymerous of the battery standard battery chargers for NiCd demand a separate charger as are very responsive to an overcharge, and will not approach.
It is necessary to check a level of category of batteries, on the time clock, or the on-board gauge as the recategory of batteries disables them out of operation practically instantaneously.
Nevertheless, despite all complications about lithium-polymerous secondary generators, the model after an upgrade is received absolutely amazing, capable without problems to fly away 20 minutes.
Limits to perfecting are not present. And even in such small model value of some hitches compounds huge numerals. The holder should decide independently, that it is necessary to refine in the model, and that - is not binding.
Abstract
Pluses and model minuses:
| | |
| --- | --- |
| + | The small size of model |
| + | Utilisation of standard 4-channel hardware (fixed pitch) |
| + | At manufacture the dazzling plastic material is used |
| + | The lump of bearings is applied |
| + | The tail boom can be easily repaired |
| + | Plastic arms differ excellent survivance (fixed pitch) |
| + | Lack of complicated mechanisation of a caudal curl |
| - | Fragile construction of the bush of attachment of a curl |
| - | Fragile construction of a slider of a collective step |
| - | Large sluggishness of a caudal curl |
| - | Not informative operating instruction |
Flight characteristics of the given model very strongly depend on version of the main curl.
Fixed pitch:
The model approaches for the beginning pilot, or is simple for the person who wishes to try to do some flying. Thus huge experience of piloting it is not required. Shock-resistant and independent model, absolutely not exacting to operating instrumentation.
ATTENTION. It not a toy for children of junior age!! Before flyings in any case agings on a simulator are necessary!
Collective pitch:
Model for the skilled person who would like to prolong extremal flying not only in the street, but also indoors, or near the dwelling. Thus the pilot receives amazing flight performances of model at enough fail-safe design. Huge capabilities on an upgrade and flight vehicle perfecting.
You can look the additional information here:
http://www.precisionmodelproducts.com - wide selection of upgrades and spare parts
http://www.pgoelz.com/piccolo1.html - very large collection of answers to problems and exposition of remakings
On site HeliHobby it is possible to discover operating instructions on the helicopter and good podbotku a video.
Comments:

Similar pages: