Electrical helicopter Jabo "teapot" eyes
And again about toads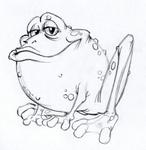 In life of each of us sooner or later there is a moment when it would be desirable to try something the newcomer, to learn something that you do not know how yet. So happens and with me – not so long ago to me has knocked on a head that would be quite good to learn to operate also by helicopter. Not with any definite purpose, and simply to learn. For a tick. That the nobility if that, that by helicopter to control I a little I know how.
This thought, it is necessary to tell, chased me it is persistent, but - it is not so persuasive. Therefore some time to me was enough simple to stay in a state of an easy stupor, studying rates on electrical radio-controlled helicopters and their stuffing and thinking from time to time, whether to spit upon this business. Who knows it, how much still I would be in such state, if the nice helicopter of corporation RC Zhen Hua not found in store "Flying" by name of Jabo, so conformable with a name of my best girlfriend and the adviser.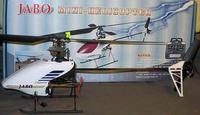 I am not disassembled at all in radio-controlled models of helicopters. No, I, of course, present, that they happen DVSnye and electrical, under a miscellaneous cubical content, with collective and fixed pitch … but to it my knowledge and limit., In general, that is necessary to me? That the helicopter was electrical, small, and was operated as complicatedly, as large, well or nearly so as. The problem – to do some flying on a lap, in a calm sea, in aerodrome or on a rate, friends porazvlekat. It seems, Jabo ideally approaches under these demands. Well and, certainly, most of all approach under my inquiries the price (to greater pleasure of my "toad") and the helicopter complete equipment. Anyhow, in one of merzejshih crude January days the helicopter has been bought and with honours is got from store home. In store I have been struck on the spot by the model sizes – the helicopter has appeared not simplly small, but absolutely small!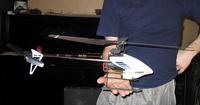 The diminutiveness it has captivated me ultimately and irrevocably, and now we with it friends – do not pour water.
I very much would not like to do this review similar on remaining, but a few dry numerals it is necessary to give all the same.
Reference specifications
| | |
| --- | --- |
| Diameter of a bearing curl | 510 mm |
| Length | 470 mm |
| Take-off weight | 350 g |
| Motor of a bearing curl | 280 type |
| Motor of a caudal curl | 015 type |
The model of the helicopter enters in a complete set with completely built on-board part of radio equipment, the sender, a charger for the leading battery, the battery, a cable for hooking up to a simulator.
Some photographs will help to perceive the model arrangement.
The helicopter together with the sender has been packaged into the tidy compartmented carton supplied, to my pleasure, even by the pen for a trouble lamp. And I was baffled, that it is necessary to do a box for model transportation! It is not necessary.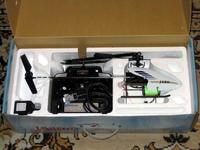 The list of standard equipment is defined by short and capacious abbreviation RTF, so lovely to heart of any "teapot". RTF means «Ready To Fly» - the model aeroplane extracted from a box is supposed, that, is off-the shelf to fly anywhere right after battery chargings. Not clearly only, why in a radio transmitter there were no secondary generators. It was necessary for flyings in a room to use network electrical power unit.
But the entertaining thingummy – a cable for an aviasimulator was as an unit found. However, not so clearly, for what – on the end of a cable intended for actuation in the computer, the connector of type RS232 hung. Accordingly, to Real Flight'у to hook up to me it it was not possible. However, even if it also was possible to me, to sense from that would be a little – the oscillating detector has displayed, that from a "trainer's" transmitter output there is the easly bill no cue.
So tutoring in a simulator at me is not has gone. But we do not search for easy paths! Therefore the toy helicopter has been given in battle readiness (I will note, that he has not demanded tuning), in a room the level ground approximately 2х2 metre is chipped away, and we have initiated with agings.
As we flied
Uff... As it is complicated! The first time in my head one problem span only – as IT generally operate?!! I somehow also have forgotten, that in due time the same problem at me originated at control of unpretentious models of airplanes...
However, all is fast ustakanilos. First some "flyings" consisted of tryings of the supervisory control of a rule of the helicopter, when it just about will lift off if slightly to add cycles. Fifteen minutes of such exercises – and the arm are shaked with range of centimetres ten, and a back wet through. A smoke break... The Most complicated have appeared to learn to check a rule of a tail boom irrespective of bank control - an eye and the attention catastrophically did not suffice. But as it, appears, interestingly!
Then the problem has become complicated - we have started to jump up a little over a floor. Adrenaline became even more – the helicopter continually strove to get away through an open door in an aisle or on the sly, sidewise-flank, attacked a sofa. I, of course, tried to check look-alike feeble efforts, but it was received farly not always, and during the most interesting moment it was necessary to throttle back. The helicopter flopped on a floor.
It is curious, that in the course of such agings any fitment has not suffered, the same as also helicopter arms. No, I, unconditionally, periodically flew in a sofa, but always had time to ungear a motor, and arms simply developed, not being damaged. The helicopter, appears, possesses fair durability to falsities of the hard fate - to manifold crashes with furniture and falls with a small altitude. Anyway, to break to me in him while it was possible nothing – a great thing a carbon!
And nevertheless the most interesting has begun when in the arm there was a certain automatism, and I have started to cease to reflect, where what pen to yank. Fairly having grown bolder, I have started to perceive a helicopter on an altitude, large, than diameter of a bearing curl – at its such altitude is less "kolbasit", and it hangs much more easy.
... Oh, what kulbity we manufactured! From time to time the helicopter started to record on an accursed sofa, and it was necessary to add sharply motor cycles not to be fitted in in a sofa, and it is dexterous on it to jump; once I have managed to seize for a landing skid the helicopter which absolutely self-contained and very separately was flying by over me towards an open air vent. In separate days the helicopter unexpectedly deployed and was for some reason launched on me.
Anyhow, but three weeks ezhevechernih agings have given a positive take – I have learnt to hang more or less tolerably in a room, being periodically touched down on a sofa or is revertive on a floor. And here there was the most offensive – the room sizes have ceased to suffice me.
I, of course, perceive, that the bad dancer is prevented by all successively, but all the same not so cosy felt, knowing, that is more than per metre from a take-off point I can not be biased. It is a pity furniture and the helicopter. Certainly, would be in the field quieter, but in the winter in our corner of the world extremely seldom it is possible to find calm weather. It is necessary to wait silent summer evenings, flying gradually in a room.
The separate story is merited by the leading battery. Sizes in 650 ма*ч suffice for 15-25 minutes of jumpings up, or on 7... 12 minutes of stations keeping with periodic landings. Certainly, at continuous flying the battery will be discharged more fast, but if it is fair, I did not have yet a requirement for the second battery. While you fly on one of them, you get tired so, that earlier than through a pair of hours for radio control to undertake desires are not present. And the pair of hours is just that time for which one the secondary generator is loaded.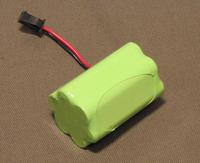 It is necessary to note, that the charger applied on a helicopter for the secondary generator is, more likely, a deficiency, than advantage. The elementary, without any automatic cutoff, and the secondary generator it is necessary to peel a battery charger from a charge easly in two hours and twenty minutes. Owing to characteristic forgetfulness I few times nearly have not blow uped the battery, having turned out it already heated, on ten minutes after the figured. If the charger as a unit was not, I easy would charge the battery the delta-peak a battery charger. But if the regular battery charger is – means, it should use. Here also I use … such at me trimmed psychology.
Still a pair of words about an electronic stuffing.
I have been much surprised, having found, that instrumentation of radio control – RSM TH. Usually RSM meets only in more or less severe senders of known generators, that is why a laconic placard on shildike «Zhen Hua. Pi-Si-eM.» Has puzzled me over a standard. Instrumentation has really appeared RSM TH, and I did not manage to discover in the sender a standard RRM-PACK of channel momentums. At the declutched sender the collector never will give a motor a command to start, and control-surface actuators do not move. Was very friend. However here, apparently, the deficiency is covered also – at originating of handicapes (I flied about the switched on computer) the helicopter on a fraction of a second ceases to react to motions of pens of the sender. Though, probably, it is better, than if in such situation it began random motion.
Abstract
If it is short, the helicopter is defined in a word – «the Thing!». No, the word of honour. It is not necessary to me much, and beautifully to do some flying ten minutes for pleasure – a limit of my dreams. The model completely fulfils with mine "chajnikovskim" to inquiries, and on all indexes. Therefore I am very happy both a helicopter, and reached by us with it mutual understanding. Incidental willfulness of its character hundred-foldly pays for itself it druzheljubnostju and kindness – well who else will excuse me so much gross errors and rigid touchdowns, with honour having transited this trial?
So with a helicopter we now bosom friends. He lives on specially for it to the hung up shelf, is always pure and well-groomed, and supplies to me many pleasant minutes when we are going to do some flying. I cannot tell, that it is very complicated for operating. Everything, that is required are periodic agings, and the experience gradually comes, and together with it the pleasure from that comes also, as the helicopter is subject now to you.
Postscript
Awfully it would not be desirable (what for?), but all the same it is necessary to enumerate pluses and model minuses is short.
Minuses:
girosokop

without function of deduction of a tail boom - at category of the battery a tail boom starts to withdraw aside
The swashplate rises on an emphasis hardly earlier, than the motion of control-surface actuators is finished
The helicopter is afraid of a wind more than 1

ms
Pluses:
Despite ease, control as skilled pilots tell, it is very similar on "large"

DVSnyj

the helicopter
Exclusively rigid and easy skeleton from carbon tubules and

grafitonapolnennogo

a plastics
Limiting ease of maintenance of this radio-controlled toy
Nice – well forces are not present!
Robust box for transportation.
Helicopter "Jabo" model the store has given for the review Flying.
Comments:

Similar pages:

electrical helicopter