Protech Zoom 400
The entrance
Shortly. It is good to have the son if you are engaged RC modelizmom – does not give to relax.
Well and if is hardly more detailed, all looked so.
At the moment of purchasing ZOOM 400 in mine «a helicopter hangar» there were three models: Honey Bee II, Hornet II and CyberCopter. Helicopters, unconditionally, noteworthy. But it would be desirable something the. To you, probably, a mark this itch of the modeller – desire to discover the "" model.
New Year – a time of gifts, and on a problem to the son approached: «That you want, that to you the Grandfather has brought the Frost», has received unexpected enough answer: «Tartalet (helicopter)». Well, toy it, probably, has more than helicopters than in diverse country of the presents so I have relaxed: we "Will make". And it is vain, the son has updated: «As at you», than me has strongly puzzled. The son has got used, that the daddy holds the word.
So has been decided to buy helicopter ZOOM 400.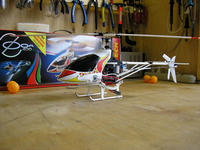 Helicopter technical datas.
Collective step.
Free wheel in a construction of the chief curl.
Diameter of the chief curl – 630 mm.
Helicopter length – 580 mm.
Weight – 530-550
The parents of a select of this helicopter are that:
Rather pleasant price for model with above-stated

TTH

.
The manufacturer - the known Belgian company

Protech

having good reputation.
The helicopter is collected on 90 % and a time indispensable for its preparation for activation, minimum.
The helicopter has started to deliver on the market in February, 2004 and a time has transited enough that among modellers and in helicopter log-books there were about him recalls. Recalls rather good, for example, in the log-book review «Rotor World» for July, 2004 Foreign colleagues are not bad recalled about the helicopter and on site

E-Heli

bodily devoted ZOOM 400.
As additional incentive to purchasing, free wheel presence has served in the construction of the chief curl allowing considerably to discharge the drive aloft, at changes of aircraft attitude, and also, the potentiality of the helicopter to execute an autorotation.
The upgrade capability, that figure and in very "heaped up" ugolno-titanovo-aluminium version.
Issue of multiple clones ZOOM 400 - Zap/Dolphin/Shogun/MicroStar 400, that speaks about the successful scheme of a prototype.
So, purchasing is made. The friends who were taking away the helicopter in store to transmit it from Moscow to me, telling about purchasing, licked very unambiguously lips … Well, I agree with them, the model of that costs.
That as a unit
Exterior of a box, package, and the complete equipment have pleased – all top-level.
In a box was:
The helicopter in an assembled state on 99 % flight-ready. It is necessary to deliver only aboard electronics and the secondary generator.
The chief arms.
Additional, lower shock struts.
Axis of a driving of a caudal curl with a gearwheel.
Gearwheel of a driving of an axis of a caudal curl.
Adaptation for regulating of an installation angle of arms of the chief curl.
Administration in several tongues (alas, but Russian is not included in their figure).
Plastic cubicle.
Decales. There is a select, it is possible to make some versions of colour painting of the helicopter.
That else is necessary:
Four micro-servos.
One six-channel microcollector.
One microgyro.
One speed-controller on 20А for commutator motor Megax 400 with BEC not less than on 5А.
The litievo-polymerous assembly 3S1P or NiMH assembly from eight secondary generators.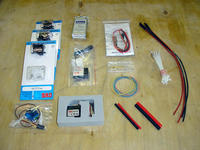 The instruments used at assembly of the helicopter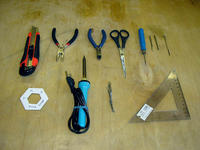 Nuances of assembly
Helicopter assembly is rather simple. If to follow the operating instruction, any problems to originate should not.
First of all we establish servos.
The helicopter construction implies adjustment of a "native" bort side, i.e. the on-board electronics which are let out by corporation PROTECH. If at you a servo from other generators there can be problems with their adjustment and regulation of thrusts. In a helicopter construction all is calculated to millimetre. In any case, at installation of pushrods by a swashplate use special adaptations – push rod connectors. It will easy to you further helicopter regulation.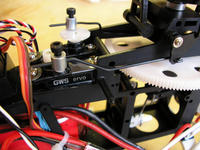 The following step – gyro adjustment. For this purpose the scrap of a double end adhesive tape is required to you. Be not afraid, the gyro will not fall off. In a pre-assembled state the helicopter requires a minimum of regulations, simply speaking – chatterings practically are not present. The small square Pays attention, a place under the gyro enough, therefore at adjustment try to abandon a sufficient backlash between the enclosure of the gyro and the chief pinion.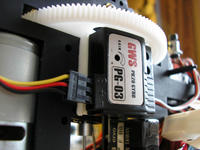 Collector and regulator installation too does not call troubles. The collector fastens to a frame elastic bands, the regulator – anidex rods. I used 80х2.5 mm. Before to tack the regulator, we will braze the appropriate conclusions to motor bonding pads, trying not to confuse «+» and «-». Plus the contact on a motor is meant by a red point. After this operation it is possible to select all superfluous wires and snug to tie up their rods to a frame. Antenu the collector under the operating instruction it is necessary to coil on a special bobbin and to tack rods to a frame. I have made a little differently - have missed a wire in a thermoshrinkage tube in diameter of 3 mm and have built all this facilities along the helicopter enclosure, having attracted the same nejlonkami. The aerial at me has appeared in the organised state. In my opinion, it is better, than in a convolute kind, though a problem disputable.
Regulation of length of thrusts consists in consecutive and exact execution of steps of the operating instruction. The photographs illustrating this operation, are informative enough, even not bindingly to know tongue.
It is necessary to support an accumulator battery which one serves also for rework of affirmed centering of the helicopter. The battery fastens elastic bands, moving it right-left and forward-back, we achieve a rule of the central television recommended in an administration. All this process takes some minutes and is perfectly illustrated.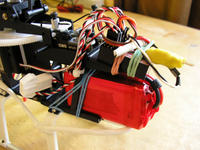 There is a small moment on which one I advise to pay attention. It is a backlash between gearwheels – motor, chief and a driving of a caudal curl. In my case a backlash to adjust it was not required, but, this process is featured in an administration.
Now it is possible to take rest and be occupied, let us assume, cockpit canopy painting. I do not know to whom as, but I did not like interiors of model seen through a transparent lantern. The lantern can be coloured in black colour as follows. We peel a lantern, and on its inside face one bed of a black varnish for nails is put. After varnish insiccation it is put one-two bed of autoenamel. I used a black varnish no name on 10 rub for a vial of 20 and a paint-spray "Omaks" black colour. All operation has taken me 1 hour of slow activity plus still some time indispensable for insiccation of autoenamel. Activity cost the time expended on it. Beautifully, oh, damn, it was received …. Here now we stick down decales, having selected the colour scheme on taste, and …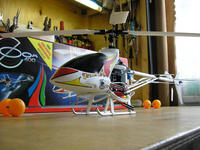 The helicopter is almost off-the shelf to activation. There were fines – to eliminate a difference of taking - off of arms at gyration. For the best rendition, it is not forgotten to paste on the ends of arms an adhesive tape stria. At tuning of thrusts of a step of arms of the chief curl on a root of one of arms the adhesive tape scrap also is pasted. That in later not to confuse, traction bar of what arm, adjusted earlier or what should be adjusted.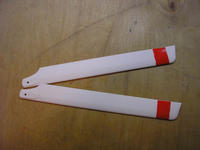 On it assembly and tuning is finished. The model is off-the shelf to flyings.
However besides flyings the helicopter should be tolerated occasionally from a place into place and consequently small adaptation is required to us. To expend it is a little time on its manufacture I advise insistently since in transit the helicopter of the arm of the chief curl it is necessary to anchor. Adaptation is for this purpose done very simply. The substance – an "elastomeric" packing foamed plastic which one uses at package of office equipment or is on sale in household shops as insulating.
All is now ultimately off-the shelf! And if you feel in yourselves enough forces and determination can initiate with flyings. As the helicopter easily and softly is piloted.
Flyings
Flyings by the helicopter supply pleasure pulp.
After power-up we give the gyro to "come to the senses" - to be initiated. Then plavnenko we add gas. In the beginning the helicopter, with not gained rotational speed drive, shakes, but no trouble, having gained rotational speed a little, he is quieted. Rise (lift-off) smooth, but it is necessary to take up effect of "land" a little. Having taken off on an altitude of 1-1,5 m, it is possible to forget about this effect. The helicopter steadily hangs, i.e. not it should be "hunted" constantly. It is is relevant, as at the initial stage "hanging" – the chief figure of flying which one the beginning RC-pilot confidently should execute. Having ventured to fly by a pair-triple of metres, you will be surprised by behaviour of model – flying quiet, the main thing not so to prevent model …
My judgement - if you only wish to gain to yourselves the helicopter model ZOOM400 can quite become your first model.
Abstract
The helicopter is made and pressobran it is good. Regulations practically it is not required.
From virtues I wish to mark the following:
90 % availability of model for flying.
High quality of assembly.
The clear operating instruction.
Stable, easly flying of model – 10-12 minutes on green secondary generators 3S1P 1500

mach

.
Capability of a severe upgrade.
Using at maiden flights the coach-chassis, the helicopter is difficult enough for "dropping". The ambulance is independent, it is possible to tell is impressive.
Deficiencies:
Standard wire traction bar of regulation of a step of a caudal curl has some backlash.
At utilisation of servos of extraneous generators, there can be some difficulties at their installation.
In the inference, I can tell only one if I have bought ZOOM 400 would avoid many problems earlier, but on the other hand, the capability and skills of their solution come with experience.
As the first severe microhelicopter with collective step ZOOM 400 will approach on all of 100 %. It flies perfectly!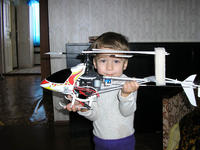 Successful flyings and soft landings!
The helicopter for the review has given store of Hobby a Center.
Comments:

Similar pages: