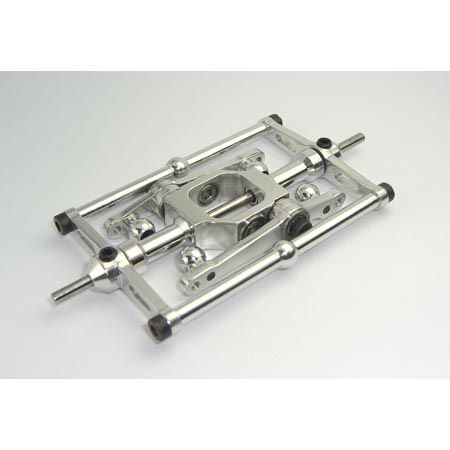 Specifications
Manufacturer: MICROHELI CO., LTD
Closed loop flybar design to ensure the linkage balls are always inline and to avoid flybar strippingFull ball to minimize unwanted play and maximize precision cyclic control, extremly smooth and slop freeAn additional mounting hole on each upper mixing arm allows users to gain 15% or more on cyclic responseSpecial reduced OD Steel Washer to prevent friction to outer ring of bearingStrong, stylish and light weight design100% precision CNC machined aluminumWeight: 12.7g
Includes: -1 CNC in-line flybar control arm system -1 CNC flybar seesaw system -2 CNC upper mixing arms -4 precision CNC linkage balls -8 precision miniature bearings pre-assembled -All hardwares
Requires: -Please make sure all the threaded screws are applied with enough loctite. -The stock flybar is bigger than 1.98mm in outter diameter, therefore it may not go through the bearings across the seesaw. We supply two delrin pushings to replace two bearings so that the flybar rod can be slided through the seesaw (see assembly diagram below. If one prefers to use bearings, the flybar rod can be sanded down slightly with sandpaper 100 to reduce the outter diameter down a little bit so it can be slided through the bearings. The new kits come with standard 1.98mm flybar rod so those rods can be -If ball linkages are tight, we recommend using 4.75mm ball sizers made by JR or HeliMax. -If the flybar doesn't go through the bearings, sand the flybar end where the thread ends a little bit so it can go through the bearings and washers. -Washers supplied should be placed between the T-hub and the seesaw hub, not between the seesaw hub and the mixing arms. If placed between the mixing arms and the seesaw hub, it will cause binding because the clearance distance is not enough.
Similar parts
Comments, stories:
If you have used Flybar Cont Sys:TREX 450X/XL before, please write several words with your feedback, pros and cons, or whatever you think will be usefull for readers. If you have a question - you can ask it here.