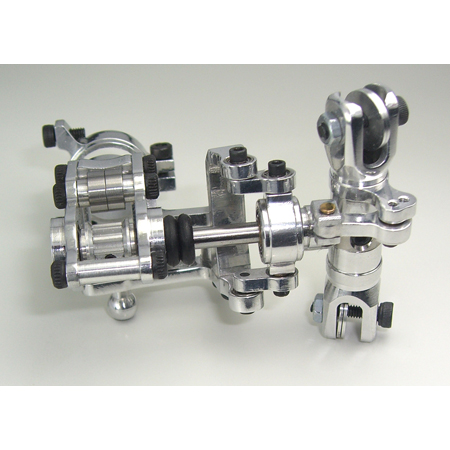 Manufacturer: MICROHELI CO., LTD
---
Specifications:
| | |
| --- | --- |
| 100% Precision CNC machined Aluminum and DelrinPre-assembled 18 precision miniature bearingsDual-arm hinged bell crank to offer smoothness and to ensure zero slop and zero bindingDual support hinged tail pitch slider to offer smoothness and to ensure zero slop and zero bindingSteel tail rotor hub for safetyStylish designWeight: | 25.4g |
| Includes: | -1 x CNC Tail Pulley Case -1 x CNC Tail Pulley -1 x CNC hardened steel tail shaft 3x45mm -1x CNC Dual arm bell crank -1x CNC Tail Pitch Slider -1x CNC Precision Tail Rotor with Steel Hub -Total 18 precision miniature bearings -All hardwares |
| Requires: | -Loctite (#242 is recommended) -Assembly |
| The Precision Tail Set PRO is an innovative design from MicroHeli in pursuit of zero slop and bind free operation solution for the T-REX. This is the results of months of research and testing from our designers to come up with a great solution for the T-REX tail. With total of 18 precision bearings in the tail system, this is absolutely the best tail system for the T-REX available on the market. It differentiates itselfs from other designs in many ways: | 1. The new design hinged type tail pitch slider offers dual support positions on both sides with dual ball bearings connections to ensure total fitness and absolute slop free connections. The tail pitch slider itself also is equipped with double precision bearings to ensure slop free and great smoothness. The brass sleeve in the tail pitch slider is done on highest precision machine with tolerance of +/- 0.001mm so that the tail pitch slider always move truely on the tail shaft. This will ensure absolute slop free in all 3 dimensions. Unlike older version which employs blue plastic horn for connection between the tail pitch slider to the tail rotor, this new design employs new CNC hinged arms to eliminate any possible bind when the tail pitch slider moves to extreme ends on each direction thanks to the new flexible arms. The new arms now no longer uses plastic ball ends to connect to the tail rotor but using two precision miniature bearings for precision control. It is a big improvement over stock design which has plastic ball end connections that can wear out over time. All the bearings we are using in this tail PRO are smallest types of bearings on the market. Over years of bearings selections, we can offer smallest precision bearings for lightest weight and great look. This advantage helps reduce the weight to minimum while maintaning superior performance and great outlook. With a fast look, it's hard to believe they are bearings included. 2. The bell crank in this tail system is a new dual arm design with total 4 precision bearings. This designs offers dual support to the tail pitch slider with ball bearings connections instead of pin connection to get zero slop performance. The bell crank base is also ulitized with double precision flange bearings for super smoothness. We use expensive flange bearings to prevent the chance of bearings falling out of the hub during flights. The most important feature that this new bell crank offers is the ability to allow flexibility between the bell crank and the tail pitch slider via a dual bearing arms which serve as bridges to avoid any possible chances of binding in any extreme movement directions. This innovative design is the only one in the market that offers both hinged tail pitch slider and hinged bell crank. Together they create an excellent system the guarantees zero slop and zero binding in the tail system. 3. The system comes with a new CNC pulley and a precision hardened stainless steel tail shaft. We are the only company that offers hardened stainless steel shaft with extreme tolerance grounded by CNC machines to ensure absolute straightness. The shaft is designed longer than stock shafts so that our bell crank has true 90 degree angle toward the tail boom at zero pitch tail blade position. 4. The precision tail rotor comes with a new steel hub to eliminate any possible tail rotor hub failure due to high speed of the tail. With new steel tail rotor hub, everyone can feel much more secured flying at any speed. This is very important for the safety of every flyers therefore we decide to incorporate a steel hub in every tail rotor for T-REX. We strongly recommend steel tail rotor hub for your safety. Overall, this tail set PRO provides super smoothness and zero slop, zero binding solution for the tail. It is preassembled at manufacture to ensure all components are working well together and offers extremely easy assembly process. It takes virtually a minute or two to assemble the tail blades and plug the whole system into the tail boom and ready to enjoy the smoothest tail. Only owning this precision system that one can appreciate the performance and the unique look that the system offers. -Available in blue and silver color |
---

Setup, installation manual:
coming soon

---

Where to get:
coming soon

---
Similar parts:
pro trex 450x:
Adj Tail Push Rod PRO: TREX 450X/XL


pro trex:
Aluminum Tail Boom Sup PRO: TREX 450XL


pro:
6-Channel CCPM Pro Transmitter FM 72MHz: BCPP
Blades: 71cm Razor Pro w/o cams: Vibe 90
315mm Pro Wood Rotor Blade Set, White
Blades: 72cm Razor Pro w/o cams: Vibe 90
Set of 4 Cams: Razor Pro Cammed Blades
Carbon Pro Tail Blade, 72mm: 30
Advance PRO eCCPM Frame Kit: TREX 450X
325mm PRO Wood Rotor Blade Set, White
Blades: Razor Pro Symetrical, 680mm
335mm PRO Wood Rotor Blade Set, White
335mm PRO Wood Rotor Blade Set,Blackk
Blades: Razor Pro Symetrical, 700mm
Blades: Razor Pro Symetrical, 710mm: Vibe 90
Blades: 70cm Razor Pro w/o cams
Blades: Razor Pro Symetrical, 620mm
Blade: Razor Pro Symetrical, 550mm
Pro Sport 550mm Rotor Blades: CP
KS Charger DX Pro 2
Blades: Razor Pro Symetrical, 600mm
Blades: Razor Pro Symetrical, 800mm
325mm PRO Wood Rotor Blade Set, Black
.. more pro data.


tail set:
Precision Tail Set SE: TREX/X400


trex 450x xl:
Steel Tail Rotor HUB: TREX 450X/XL
Titanium Main Shaft: TREX 450X/XL
CNC Main Gear: TREX 450X/XL/SE
Cyclic Lev TE:TREX 450X/XL/SE
HighSpd3x41mmTailShft:TREX 450X/XL
CNC Rotor Head: TREX 450X/XL
Washout Set TE:TREX 450X/XL
Tail Fin V2 Set: TREX 450X/XL
Washout Base:TREX 450X/XL
Aluminum Canopy Mount: TREX 450X/XL
Tail Servo Mount S9650: TREX 450X/XL
CNC Main Blade Grips: TREX 450X/XL
Front Shaft/Gear Set: TREX 450X/XL
CNC Lower Main Gear 109T: TREX 450X/XL
CNC Lower Main Gear 106T: TREX 450X/XL
Tail Pulley Case: TREX 450X/XL
.. more trex 450x xl data.