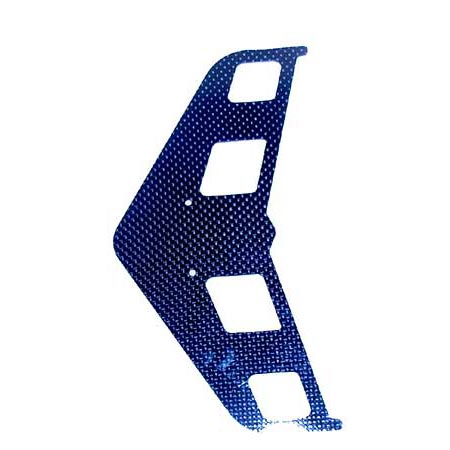 Specifications
Manufacturer: JR
Type:
Dimensions:
Weight:
Material:
Similar parts
horizontal fin:
Horizontal Fin/Brace Clamp:E
Horizontal Fin: CP
Horizontal Fin/ Brace Clamp: CP,V5
Horizontal Fin: 300 Conversion
Horizontal Fin V2: TREX 450X/XL
Horizontal Fin, FRP: A5
Carbon Horizontal Fin:V9
Horizontal Fin/Brace Clamp:A,B

fin:
Tail Fin Decal Set: A5
Vertical Fin V2:TREX 450X
Vertical Fin Round End:TREX 450X
Vertical Tail Fin: PM
Tail Fin Set:V
Vertical Tail Fin w/CNC Holder: BCP/P
Tail Fin Set:A,B
Fin Set (Complete): CP,V5
Tail Fin Set,Red:AS
Tail Fin Set: VE
Carbon Vertical Fin:V9
Tail Fin Rd End V2 Set:TREX450X/XL
Special Tail Fin Set:A,B,V50
Tail Fin V2 Set: TREX 450X/XL
Vertical Fin, FRP: A5
Horiz. Fin/Brace Clamp (Black):V
Horz Fin Mnt Metal Raptor 30/50
Tail Fin Set:E,Q,Z
CF 3D Fin Set: Raptor 30

carbon fiber:
Carbon Fiber Battery Mounting Plate, Black
Complete Carbon Fiber Main Frame Set: 600A, CF
315mm Carbon Fiber Rotor Blade Set, 3K, White
Carbon Fiber Tail Rotor Blade Set: 3K, X, XL
XL Carbon Fiber Canopy Cover Windshield, 3K
325mm Carbon Fiber Night Rotor Blade Set, 3K
Carbon Fiber Undercarriage: Universal 30/90
Aluminum/Carbon Fiber Frame Bottom Plate
Aluminum/Carbon Fiber Frame Complete Parts Set
Sym Carbon Fiber Main Rotor Blade Set: BCP, BCPP
Aluminum/Carbon Fiber Frame Plastic Parts Set
3K Carbon Fiber Tail Blade Set: 600A, CF
High Performance Carbon Fiber Blades
.. more carbon fiber data.

Comments, stories:
If you have used Carbon Fiber Horizontal Fin: VC before, please write several words with your feedback, pros and cons, or whatever you think will be usefull for readers. If you have a question - you can ask it here.