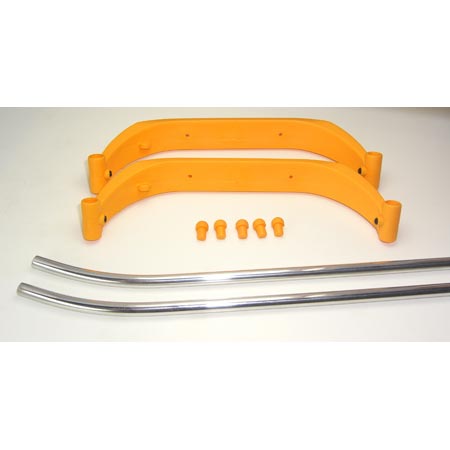 Manufacturer: MICROHELI CO., LTD
---
Specifications:
| | |
| --- | --- |
| Designed light weight and strong with high strength plastic material to withstand most abusive crashes, virtually indestructable landing gearLow profile landing gear and new aluminum landing skids to provide a unique appearance on the T-REXDesigned to attach the landing gear onto the landing skids to secure the landing gear better and to facilitate the maintenanceNew antenna mounts under the landing gear for better appearanceNew pleasant color of landing gearWeight: | 26g |
| Includes: | -Two aluminum skids -Two high strength plastic landing gears -Five plastic skid end plugs -All hardwares |
| Requires: | -Glue the 4 landing skids plugs into the skid ends. -Assembly |
---

Setup, installation manual:
coming soon

---

Where to get:
coming soon

---
Similar parts:
low profile:
Low Profile Land Gear MH AFS: T-REX 450X


low:
Fan Hub,Low Height:Venture 50C
Adj Low Gyro Mount, Align CFF Frame: TREX 450X


landing gear:
Landing Gear Strut, White (2)
Landing Gear Set:Q,Z
Landing Gear Dampers:E,S(4)
Landing Gear Set - 3DXL
Landing Gear Set: VE
Bump Resistant Landing Gear Strut, Blue (2)
Landing Gear Strut (2), Yellow
Landing Gear Set: A5
CNC Main Frame w/Aluminum Landing Gear: BCP/P
Landing Gear Set - NR3D
Landing Gear Set: PM
Landing Gear Set:A,B
Landing Gear Assembly - 3D Micro
Landing Gear Dampners (4): CP,V5
Landing Gear Mounts, Aluminum:V V5


landing:
3D Landing Skid (2): 600A, CF
Landing Skid Stop, Blue (6)
Landing Skids:E,S,V(2)
Landing Skid Tubes:V9
Landing Skid Set: BCP, BCPP
Landing Struts:AS
Landing Skid Set, White
Landing Struts,White:A,B,V50
Landing Struts,White:E,V,V9
Landing Skids: PM
Landing Skids, Long: A5
Landing Struts:Q,Z
Landing Skid Set, Black
Landing Struts (2): CP,V5
Landing Skid Nut (4): 600A, CF
Landing Struts:A,B
Landing Skid Cap:E,S,V
Hornet Landing Skids (2)
3D Landing Skid Set: 600A, CF
Landing Skids:A,B,CP,V5
Standard Landing Skid (2): 600A, CF
.. more landing data.


gear:
High Strength Main Drive Gear, Blue (2)
.. more gear data.