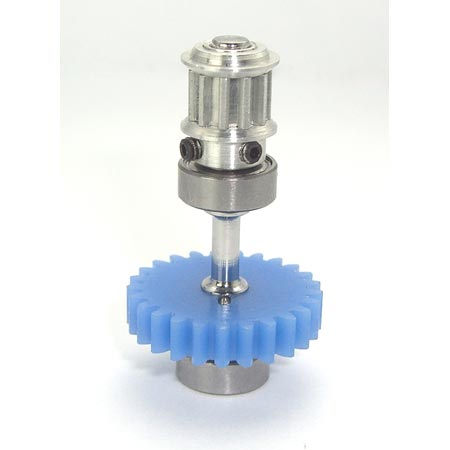 Manufacturer: MICROHELI CO., LTD
---
Specifications:
| | |
| --- | --- |
| Includes: | -1 x CNC steel shaft -2 x CNC brass washers. -1 x CNC delrin blue gear -1 x CNC aluminum front pulley -2 x precision ABEC-5 bearings -allen key and hardware included. |
| Requires: | -Assembly -Loctite (#242 recommended) all set screws. |
| Stronger CNC steel shaft for less susceptable to bendingPre-assembly 2 of 3x8x3 precision bearings to ensure super smoothness operationNo more glueing the bearings on front shaft!CNC machined delrin blue gear with guaranteed roundness and zero wobbling!CNC machined aluminum front pulley to eliminate stripping problem of stock plastic front pulleyWeight: | 4.3g |
---

Setup, installation manual:
coming soon

---

Where to get:
coming soon

---
Similar parts:
gear:
Landing Gear Dampers:E,S(4)
High Strength Main Drive Gear, Blue (2)
Bevel/Helical Motor Pinion Gear, 12T: 600A, CF
Trainerguard Training Gear
Training Gear Set:BCX
Motor Pinion Gear, 10T: 600A, CF
CNC Main Gear: TREX 450X/XL/SE
Pinion Gear,11 Tooth:V9
Landing Gear Strut (2), Yellow
Bevel/Helical Motor Pinion Gear, 11T: 600A, CF
High Strength Main and Tail Drive Gear Set: XL
Split Gear Hub Adapter: VC
Main Rotor Gear & Sh - VNR2
Tail Drive Gear/Pulley Assembly: XL
Landing Gear Set: PM
Landing Gear Assembly - 3D Micro
X3D Hornet Main Gear
Motor Pinion Gear, 14T: VE
Main Drive Gear 88T:A,B,E
HS Tail Drive Gear Set Pulley Installed, Blue
CNC Lower Main Gear 109T: TREX 450X/XL
.. more gear data.