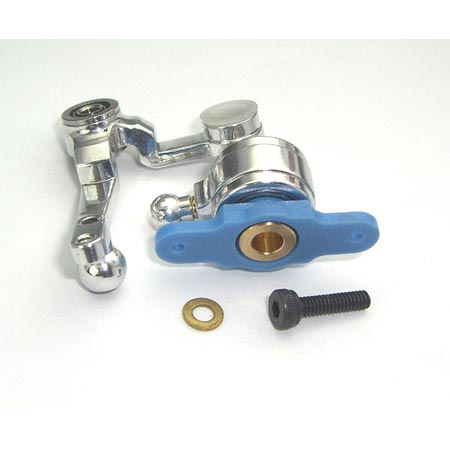 Manufacturer: MICROHELI CO., LTD
---
Specifications:
| | |
| --- | --- |
| 100% Precision CNC machined Aluminum and Delrin4 pre-assembled precision miniature bearingsUses Delrin Insert for light weight and longer lastingSpecial reduced OD Steel Washer to prevent friction to outer ring of bearingLight weight designs, strong and stylishUses metal ball system to ensure zero slop performanceWeight: | 4.2g |
| Includes: | -Tail Pitch Lever (Bell Crank) -Tail Pitch Slider SE (metal ball linkage system) -All hardwares Requires: -Loctite (#242 is recommended) -Assembly |
---

Setup, installation manual:
coming soon

---

Where to get:
coming soon

---
Similar parts:
slide:
Tail Slide Ring Sleeve: VE
Tail Slide Ring Sleeve: PM
Tail Slide Ring Sleeve:A,B,E,Q,V,CP
Tail Slide Ring w/BB:A,B,E,V,CP,V5
Tail Slide Ring: PM
Tail Slide Ring: VE
Tail Slide Ring Assm:A,B,E,V,CP,V5
Tail Slide Ring Sleeve: VC,V9
Alum.BB Tail Slide Ring:Venture


bellcrank:
Roll Bellcrank Spacer:A,B,E,V


tail:
Tail Brace Set:A,B
Tail Blade Holder Set: CP
Tail Pitch Lever:A,B,E,CP,V5
Tail Rotor Blades - 3DXL
Pulley/ Hardened SS Tail Shft: 450X/XL
Tail Control Rod: PM
Tail Pitch Slider: TREX 450X
Tail Center Hub,1Pc:A,B,CP
Tail Control Rod:E,Q,Z
Tail Control Lever Mount:V9
Tail Brace Set, Dual: V50, CP
Tail Boom: BCP, BCPP
Vertical Tail Fin w/CNC Holder: BCP/P
Universal Tail Control Guides (3)
Aluminum Tail Case/Unit, Gray
X3D Tail Rotor Blade Grips (2)
Tail Motor Heatsink: BCP, BCPP
HG Tail Case Set:Voyager E
Aluminum Tail Case L Bracket
Tail Case Set:A,B
Aluminum CNC Tail Twin Motor Mount: BCP/P
.. more tail data.


Comments, stories:
If you have used BellCrank/Tail Pit Slide SE Com: 450X/XL before, please write several words with your feedback, pros and cons, or whatever you think will be usefull for readers. If you have a question - you can ask it here.
Add comment

ritalin,18/01
Hello, what do you think, will catch up if Barcelona Real?